5 Funny Shirts for April Fools Day
Even though for many of us April Fools' Day is every day, April 1 is the one and only day we can officially be stupid and wacky. And what better way to do so than with a funny April Fool-themed t-shirt? This can either be you pulling a prank in shirt form, or a general declaration of your inherent foolishness. Either way, people everywhere will see you walk down the street, proudly flaunting your funny shirt, and they'll all have the same reaction: "Oh yeah, April 1. Right."
Here's one with its feet firmly in the "I'm the real April Fool" category. Whether you truly were Mommy's Widdle Suhpwise or not, the insinuation is sure to cause startled looks, followed by mass gigglefests. Whether your Mom joins in the festivities or not all depends on her sense of humor about the six glasses of wine it took to create you.
There are a ton of funny shirts out there that feature a false statement followed by a reminder of what day it is. Many of them, sadly, are not good, making the April Fools' part too large, or even too wordy ("Happy April Fools' Day" is far too gentle and not nearly as direct or funny.)
This shirt, however, gets it right on the money. To most people passing by, all they'll see is the giant "I'm pregnant" statement. It actually takes a couple seconds to notice the lettering below and realize what it says. This is pretty much the only real way a joke like this can work, but when it does, it works tremendously.
Of course, if you're a guy, you can wear this shirt year-round and get a laugh. Especially if you're already fat.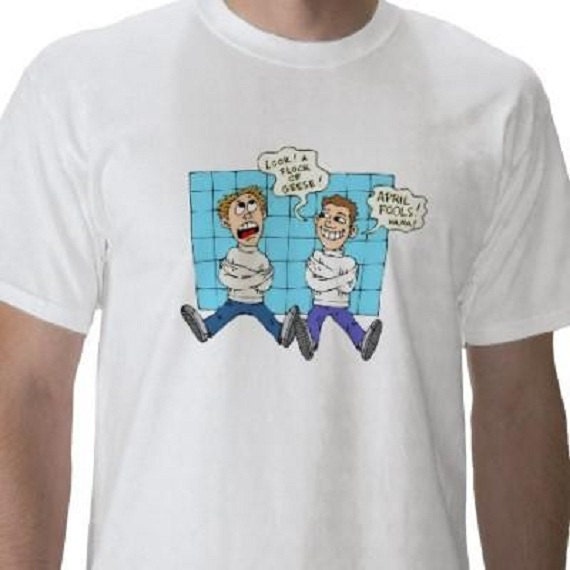 Here's one that portrays how a prank might go in an old-timey insane asylum, and the joke works double if you make it clear you're one of the two people in the picture. It really doesn't matter which one. Sure, one's the pranked and the other the pranker, but you just know the tables could turn at any time. After all, they're both crazy, as are you. So while you may be great at pulling pranks on others, at any time they could turn around and trick you just as bad.
On the other hand…
Maybe they can't? After all, if you're truly a fool, as this funny t-shirt proudly boasts, you've seen just about every trick, prank, and hoax in the book, and have probably pulled most of them yourself. Trying to pull a fast one on a professional fool is like trying to sneak up on a Kung Fu master without getting the snot beaten out of you. Best of luck either way.
Perhaps though, you want to be a little more subtle. After all, outright saying I'M A FOOL might cause possible pranksters to run off, meaning you don't get to reverse on them and make them look dumb. And that's no fun.
So instead, here's an April Fools' t-shirt that simply mentions you do dumb things. Don't we all? A shirt like this works two-fold — on the one hand, it's a simple and silly gesture that you're s silly goose who belongs in a wacky comedy. On the other hand, pure subterfuge.
Check out IAmFunnyShirts.com for tons of hilarious t-shirts, perfect for April Fools' Day or any day!
Google+