5 Geek Shirts Only a Nerd Could Love
Most of us are geeks. If we weren't, we wouldn't be walking around wearing silly t-shirts and making dumb jokes at every opportunity. More likely, we'd be walking around in solid-colored golf shirts, taking life far too seriously to worry about such trivial matters as video games or computers or what have you.
Since that sounds boring, we'll revel in our geekiness instead, and do so with a series of funny t-shirts that pay tribute to the inside jokes references we love so very, very much. Enjoy!
For the uninitiated, 127.0.0.1 is basically a blanket cover for somebody's home IP address, hence the Wizard of Oz "There's no place like home" reference. Back in the day, Internet tough guys would threaten to hack into the computer of somebody they didn't like. If that somebody was Internet-savvy, they would call this person's bluff and "give up" their IP address.
Of course, this IP address was always 127.0.0.1, something you should never use for hacking unless you hate both yourself and your computer. Once the wannabe hacker tapped it in, they would find they were hacking into their own hardware, causing no damage to anybody except possibly themselves. Most likely, anybody who fell into this trap won't be sporting this shirt anytime soon. Those in on the joke in the right way, however, should love it.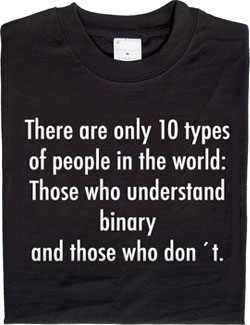 Here's another shirt for the computer-savvy crowd. To those not in the know, this shirt might seem like a mistake. After all, they're talking about ten types of people, but then mention only two? Wassupwiddat?
Of course, to those who do know, this is an exceedingly clever in-joke. Binary code is made up of two digits: 1 and 0, repeated in infinite combinations and lengths to achieve just about any result imaginable. One such combination? 10. As in ten kinds of people. Which one are you?
This one should appeal to both video gamers and poets alike. In the shape of a heart (d'awww) we get a heartfelt verse that puts a whole new spin on the stereotypical "roses are red, violets are blue" deal. Old-school gamers can view the subject matter as the ultimate tribute, paying homage to both Mario and Sonic, not to mention the idea if Player 2 being the only one for you.
Unless Player 2 was, like, your brother or something. Then the poem might take kind of a creepy turn. Either way though, this is an awesome geeky t-shirt.
Even non-geeks are aware of Star Wars. But those non-geeks might take a little while to grasp the joke here, especially if they know nothing of physics. It's actually quite a simple math formula: the mass of something, times its acceleration, equals an object's force. Thus, "May the Force be with you." It's a shirt that appeals to science geeks both in this galaxy and ones far, far, away.
Even though the whole Schrodinger's Cat thing was intended as a joke by Schrodinger himself, the idea that something is both alive and dead until one actually sees it has taken on a life of its own. This geeky t-shirt makes that point very clear, offering a (presumably fat) reward regardless of whether the cat is found dead, alive, or both.
You will both love and hate this shirt, until you buy at and wear it at the very least. Then you'll just love it.
Google+