4 Stuffy Celebrities who Could use a Wardrobe Makeover
Some celebrities are fun-loving and wacky. Others are, well, not. Certain famous people are just too serious and stuffy for their own good. Instead of their proper suits and dresses and overall businesslike glumness, why not spruce them up with a funny t-shirt or two? What's the worst that could happen: more fans? Perish the thought!
Alex Trebek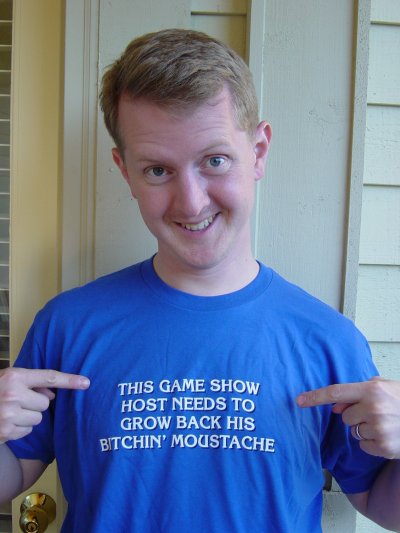 It's been almost 13 years since Jeopardy's Alex Trebek shaved his famous mustache. It's gotten to the point where more people know him without it than with it. But those who have seen it, they know how epic and wonderful it was, and they want it back. So naturally, they would agree with this funny shirt, modeled by the smartest man in Jeopardy history, 74-time winner Ken Jennings.
If Alex wore this shirt, his humor cred would skyrocket immediately, even if he never actually grew the 'stache back. Simply acknowledging that people remember and love his classic bit of lip hair would be enough awesomeness for one day.
The Queen of England
Queen Elizabeth II appears to be quite the delightful lady, though stuffy as all Hell. Everything about her is prim, proper, and perfect, as she would certainly not want to embarrass her country by letting her hair down and going a little wild.
EXCEPT SHE TOTALLY SHOULD. What better way to announce to the world that the Royal Family is hip and with the times, then by having its matriarch strut around in a Coupon Queen t-shirt? They can even up the comic effect by having her walk into a grocery store and actually use coupons to buy diapers for Prince George. And Philip, now that we think about it.
Andrea Bocelli
Andrea Bocelli is one of the best living male opera singers around, which means he's also one the stuffiest people around. Opera isn't normally a "fun" musical genre on even the wackiest of days, and Bocelli doesn't do much to change that stereotype. He's here to sing better than you and leave — everything else is useless and detrimental to his day.
Except it shouldn't be. The man sings for a living, and he should acknowledge that in a fun way. Our suggestion: this funny t-shirt, which blames (or credits, if you're a fan) his talents on demons inside his head that control his mouth and lungs, and belt "Ave Maria" every night for him, whether he wants them to or not. Just remember to loudly laugh if you find his shirt funny; a mere smile of approval won't work any, since he kinda can't see that.
Tim Duncan
For people who love basketball's knack for swagger and bluster, Tim Duncan of the San Antonio Spurs is the most frustrating person on the planet. He's not flashy, funny, controversial, or aggressive. He simply shows up, wins championships, and goes home. For a lot of people, he's dreadfully boring. He's immensely talented and clearly deserves to be called Champion, but still. Boring.
But if Duncan showed up wearing this funny shirt, he'd get a round of applause. It lets everyone know that he's aware he's been around forever and can't possibly have too many years left (we think; with his talent and conservative style, he could conceivably keep running up and down courts until he's 50). At the same time, he's reminding us all that, age or not, he's still one of the best players ever and could win a fifth ring at any time.
In short, this shirt would allow him to laugh at the joke, while simultaneously reminding us that the joke's really on everyone else.
Check out everything IAmFunnyShirts has to offer right here. Got a shirt idea of your own? Submit it here and if we like it, we'll give you $150 for it!
Google+