Are You Getting the Band Back Together? Wear These Shirts!
If life has taught us anything, it's that getting on a stage and playing an instrument increases your chances of getting lucky, at least somewhat. And maybe there are other benefits too, like expression of your inner artist something something. But whatever your purpose, it's not enough to just be in a band. Anyone who's responded to a flyer in a coffee shop can do that. What you need is some sort of shirt that lets the world know you spend a considerable portion of your time rocking out. So we decided we would put together the ultimate instrument-by-instrument breakdown of what T-shirt any member of a band should wear.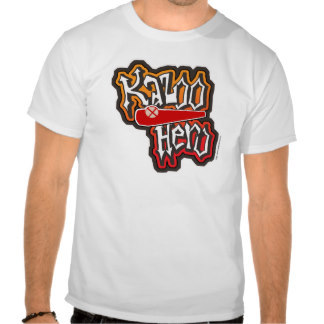 Okay, let's start with the basics. You're putting together a band? You're gonna need a kazoo player. Now no one said playing a kazoo would be easy. Except maybe your five-year-old nephew. So in order to seem accessible, you want a shirt that promotes the video game version of playing kazoo. For most, a virtual simulation is the closest they'll ever come to mastering such an advanced instrument.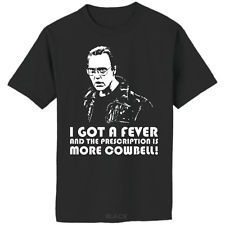 If Christopher Walken taught us one thing, it's that all those other instruments are nice, but what really matters is the cowbell. We could write some more words, but we figured instead we'd just link to that great SNL clip.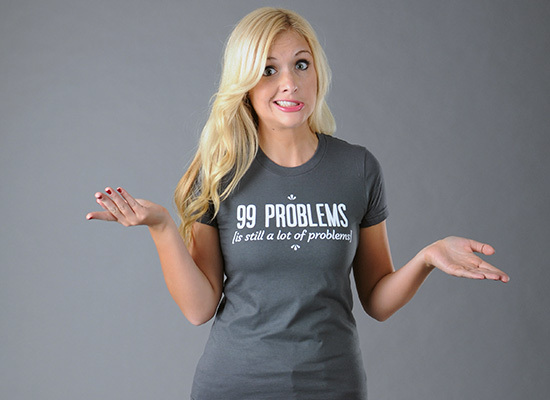 This T-shirt is for the songwriter in the band. Something to help him/her remember not to write a set of lyrics that sounds good, but doesn't hold up to intense scrutiny from people who can comprehend basic sentences. Jay-Z (or Hugo) should really talk to a life coach or something. Even that pessimistic, droopy friend of yours, how many problems does he realistically have? Like 12? 14?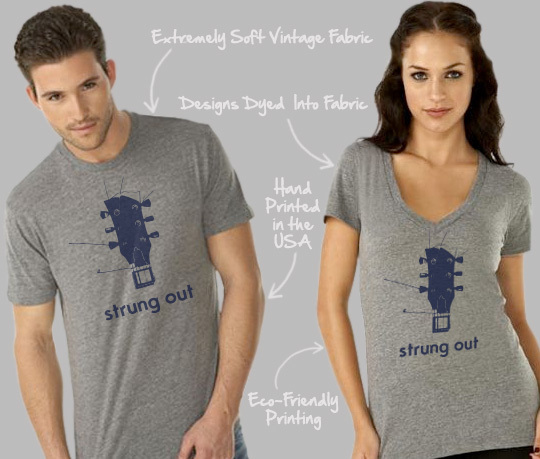 By law, all guitar players must be at least three days unshaven and unshowered. Bonus points if they are showing the early signs of an upcoming trip to a rehab clinic. In other words, they should look strung out. What better way to honor the guitarist zeitgeist than this shirt from IAmFunnyShirts.com?
Though most guys think chicks dig the guitar player, the fact of the matter is, many girls will tell you the piano player is the sexiest. Maybe something about being good with their fingers. We're not sure. So if you want to tell people not only that you're a piano player, but also you're a player who performs on a player piano, but you want a way of communicating this information that doesn't feel like a tongue twister, go with this shirt from IAmFunnyShirts.com.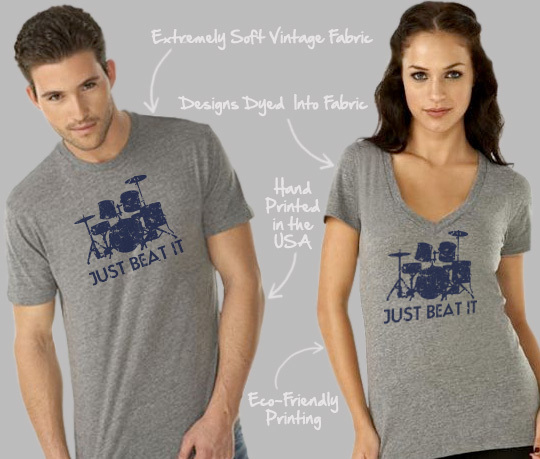 And finally, one more entry from IAmFunnyShirts.com. The perfect shirt to tell people you play the drums while at the same time telling them to scram. Why? What were you picturing when you saw the phrase "Just beat it?" Oh you mean you were thinking of– Oh!! Gross!! That's on you, man. No one asked you to bring that filthy mind into our store.
Have a great idea for a funny band shirt we don't feature? Submit it here and if we like it, we'll pay you $150 for it!
Google+