The Ultimate Gamer T-Shirts
It's not easy being a gamer. You can be ten years out of college and you're still getting heat from the bro community for being a nerd. And then you're getting heat from the nerd community for not being enough of a nerd. And then the women… well, there aren't a lot of them.
But it's worth it, because you love what you do. And so you want a shirt that you can wear with pride. One that tells the bros you don't care what they think. One that tells the other nerds to cower before you because you are their god. One that tells the girls… well, the girls still aren't talking to you. But some sort of a shirt that does those first couple things. So if you're looking for gamer shirts, here are some options.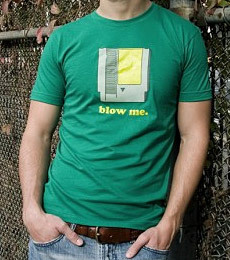 Anyone growing up in the 90's knows that video games were 60% going to another world and 40% hyperventilating blowing onto the inside of a cartridge because someone told us that's what we're supposed to do, even though that concept makes no sense and is actually wrong.
It was never totally clear what the thought process was behind the blow. That there was not only some dust inside the cartridge, but so much that if you blew on the cartridge then stuck it in the machine 17 times and it still didn't work, it was because, after 17 blows, there was still more dust in it? Well, whatever. It was a universal childhood experience we can all relate to. Also, who doesn't like the other connotation of this sentence?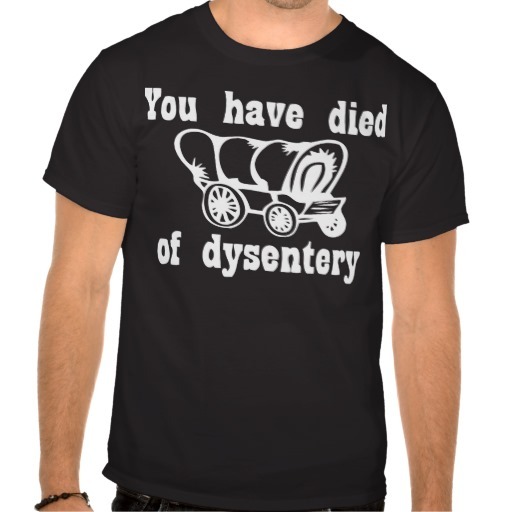 Growing up, there were two forms of video games: Kinds that were cool (Legend of Zelda, Super Mario 3, etc.) and kinds that we convinced ourselves were cool because we had never seen a video game before. Oregon Trail was the latter. If you played it now, you might peel your eyeballs out, but back then, we can't begin to emphasize how awesome it was to see video game characters named after your friends get cholera. This shirt is a celebration of all that is childhood video games.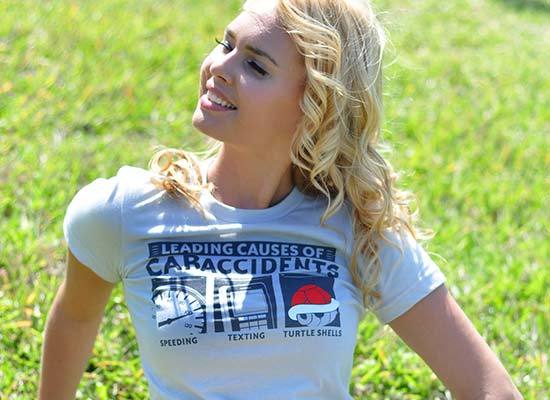 If you thought this was going to just be a series of shirts about old-time games, well guess what, Mario Kart Wii just came out May 30th, 2014 so this is totally topical (even if the first game came out in 1992). But let's face it, most modern gaming shirts are trying so hard to be intense that you just come off looking like a wanker. Pictures of guys carrying flame throwers and other extreme weaponry. But a real man? He knows that the only weapon that matters is a red turtle shell.
Because the red turtle shell is like the Terminator. To quote the 1984 classic, "It doesn't feel pity, or remorse, or fear. And it absolutely will not stop, ever, until you are dead."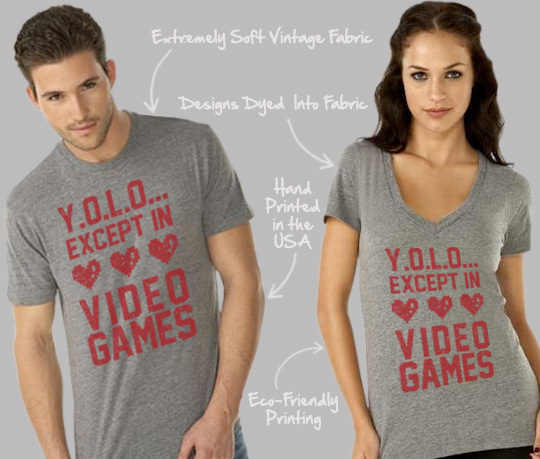 If you've ever felt confined by the restrictions inherent in Drake's mantra, then video gaming is probably for you. It is a tradition as old as time itself (or at least the 1980's) for a video game character to die a horrible, gory death, often by falling off a cliff into the abyss, only to return to your screen with a happy-go-lucky look on his face, ready to do it all again. So if you want to really let the world know you're a gamer, go with this option from IAmFunnyShirts.com that tells Drake and all his twitter followers how death really works.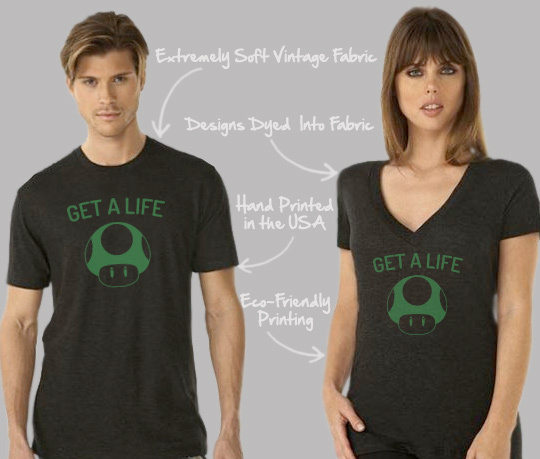 And as long as we're talking about life and death and the existential ethos of gaming, let's end with this one, also from IAmFunnyShirts.com. It's simple, it's funny, and it's your way of telling that obnoxious bro, "Hey, you're the one who doesn't have a life!" We're sure the women will love it… okay, maybe that's asking too much, but it's still a fun shirt.
Have a great idea for a funny gamer shirt we don't feature? Submit it here and if we like it, we'll pay you $150 for it!
Google+